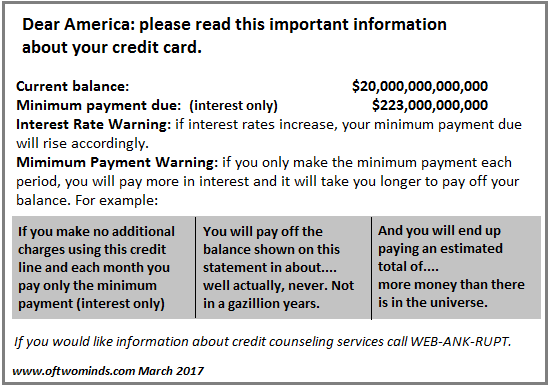 …you can create all of the money you want, however, production of real things cannot be accomplished with a keystroke.

Then there is the issue of liberty. Each Federal Reserve Note is a liability of the Fed and gives the bearer the right but not the obligation to purchase — whatever the Fed deems appropriate. How much one can purchase keeps changing base on a theory-driven experiment that has never worked. Since the Fed is nothing more than an agent of the Central State, the ability to control what the wages of its workers will purchase, is a dangerous power for any government.

If a Federal Reserve Note is a liability of the central bank, then what is the asset? The only possible answer is the nations productivity. So, in essence, an agent of the government, the central bank, most of which are privately owned (ownership is cloaked in secrecy) owns the entire productive output of free and democratic nation-states.

People who speak of liberty and democracy in such a system only delude themselves.

Then there is the solution, default. That only resolves the books, the liability of human needs remain. Bankruptcy does not resolve the residue of social misery and suffering left behind for the masses who became dependent on lofty promises (debt). These promises (debts) were based on theories that have reappeared throughout human history under different guises but have never worked.

More debt will not resolve debt. The individual's liberty is nonexistent if he does not own his labor. A people should consider carefully the viability (arithmetical consequences) of borrowing, at interest, to consume their own production. The asset of our labor cannot simultaneously be a liability we owe to ourselves at interest.
http://www.washingtonsblog.com/2017/03/dear-america-better-read-fine-print-credit-card-statement.html